Hal saw Bitcoin as becoming "high-powered" reserve money for banks to transact with while issuing their own digital cash. It's interesting
reading some of the replies
-- some were quick to call out the woes of fractional reserve.
He liked the idea of Bitcoin-backed banks, much in the same way that Michael Saylor does (and has been getting called out on it for what he said in a recent interview on CNBC, in the very same way as Hal was).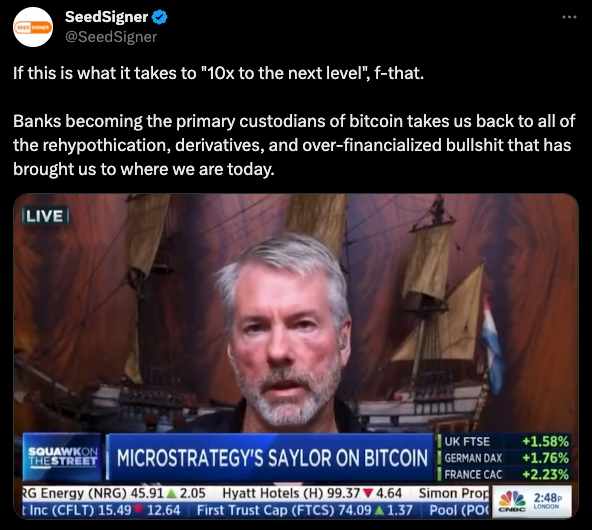 "For the [Bitcoin] industry to move to the next level, we need to migrate to 'adult supervision.' We're gonna need big banks to become the c̶r̶y̶p̶t̶o̶ [Bitcoin] custodians. We're gonna need Wall Street to take a role..."
Is this the ultimate fate you see for Bitcoin as well?
Truthfully, I think Hal and Michael both think very practically about bitcoin -- in the world as it is today and how it will function.
They're focused on the next 3 decades for Bitcoin, probably not beyond then (well perhaps Hal was, but I'm ~90% certain Michael has explicitly mentioned this on an interview -- can't remember where)
Point being, I don't think Saylor is coming from a "wrong" point of view, but perhaps from a more (boring) grounded timeline.
As I mentioned in my recent post,
Bitcoin is the TROJAN HORSE
. While we should absolutely be
keeping the unbanked unbanked
, developed nations with established financial systems will likely have to be reworked from the inside out -- it's an inevitable force of "mainstream" adoption.
I do not think that Bitcoin banks are the ultimate fate; I'm fully looking towards a custodianless world. Starting with myself and my family, and then helping others as I go.
But in the short term, Hal and Saylor I think have "Bitcoin banks" right in terms of the timeline. I just think it's an inevitable step rather than an ultimate fate.
And yea, it's gonna piss a lot of us off.