Watch out for the scam is Bitkit guys!
In Nov 2022 I start testing Bitkit, as presented to be a new LN node app for mobiles! As you know I am in Bitcoin from 2012 testing a lot all kind of Bitcoin apps, just to learn how to use them and report issues to devs and occasionally making guides about them.
So trying to test this new mobile LN app I end up having some issues. Is normal for a new beta app. So I reported on their github in two ocassions:
The issue wasn't reported only by me but also by other users.
So I waited for the devs to come up with a fix or at least an explanation. I was also trying to keep updated my Bitkit version and trying all kind of scenarios, looking for a fix somehow. I was just trying to test the app and help the devs .
So I was also asking in their Telegram group what is going on with that issue and why was treated as "low priority".
Then John Carvalho the CEO of Bitkit (
@BitcoinErrorLog
) jump in the chat trying to shut me down. I was genuinely asking a serious question, posted on their Github repo and trying to find out why that happen.
In the end he banned me from that chat just because I dare to ask serious questions, when in fact I was just trying to help them. LOL And here are the screenshots that he delete them all from the chat and all my posts (because I dare to ask questions).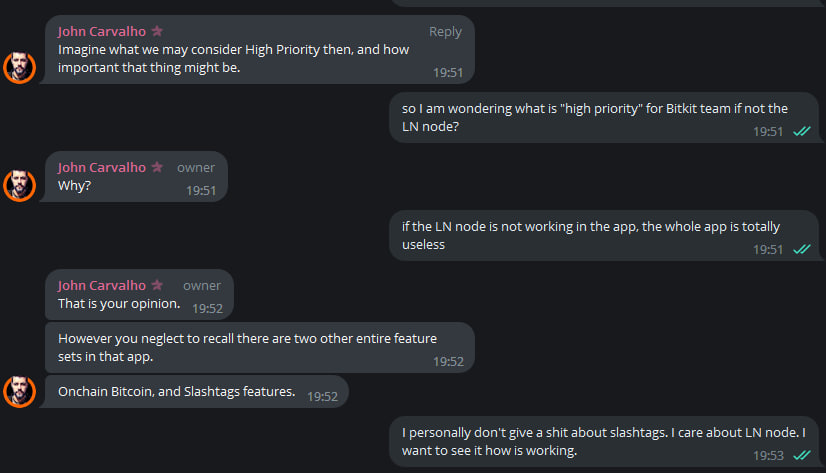 So be aware! Bitkit is not supposed to be a LN node app for mobile!
I am calling it out this issue here! YOU HAVE BEEN WARNED!
BTW... funds are still stuck in this app and I cannot recover them!